Welcome to our first C.A.S.T. Theatre Goods & Services Auction Photo Gallery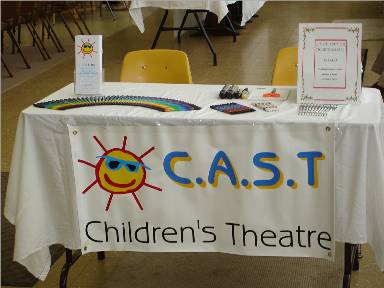 Special, special, thanks to
RJ Weston
of Weston's Auction House
and
Jessica Schneider
of WFSB and a former C.A.S.T. student.
Weston's Auction House

Route 44 Boston Turnpike

Coventry, CT

Was Sunday, December 4, 2005
A message from Donna Mercier -
Thank you all for every minute of your time that you give to C.A.S.T. Theatre. Without your effort and devotion this wonderful day would not be possible. Thank You, Donna
THANK YOU RJ WESTON for all your guidence and...
...your generosity. This was not possible without you.
Jessica Schneider, WFSB Report and a CAST alumni
Jessica and one of her helpers, Bob.
Marcus and Kayle working away.
A couple of C.A.S.T. student helpers. Thanks Ladies!
Jessica and Donna catching up on C.A.S.T. "news" :-)
Some of our bidders preparing to bid.
Our special greeter, Rudolph the Red Nose Reindeer.
Beth Courtney enjoying Rudolph's company.
Jessica posing with some of the Knitters Group.
Some auction items.
A beautiful handmade infant set, made by a very talented CAST supporter.
Julie Clay and Susan Nunes enjoying the event.
additional items.
A few treats.
Good Friends, Good snacks, Great time.